Page 1 of 2
The 21st Annual GEORGE SHERRIFF MEMORIAL INVITATIONAL COMPETITION
Saturday, November 19, 2016
St. Paul's Presbyterian Church 70 James St. S., Hamilton, Ontario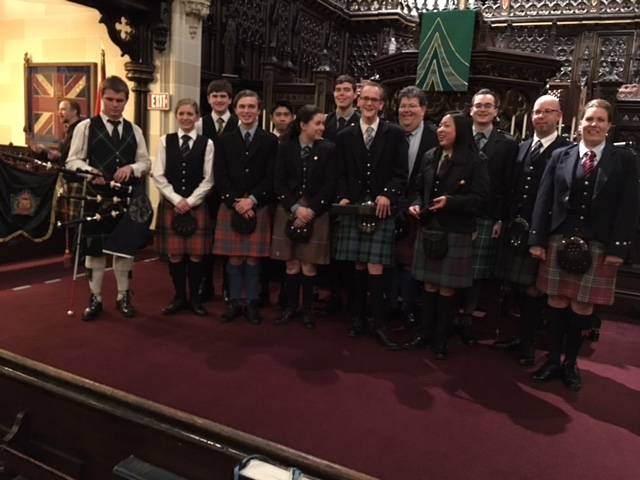 Here are the 2016 competitors and adjudicators, after the prizes.
Master of Ceremonies - Michael Grey
Adjudicators - Andrew Hayes (Ottawa, Ontario), Shaunna Hilder (British Columbia), and Donald MacPhee (Scotland).
RESULTS OF THE 2016 EVENT
Overall
1st Austin Diepenhorst
2nd Andrew Hutton
3rd Maeghan Bielski
4th Gavin Mackay
5th Sarah Simpson
Piobaireachd
1st Austin Diepenhorst (Lament for the Viscount of Dundee)
2nd Maeghan Bielski (MacKay's Banner)
3rd Andrew Hutton (Battle of Waternish)
4th Sarah Simpson (MacCrimmon's Sweetheart)
5th Gavin Mackay (Catherine's Lament)
March, Strathspey & Reel
1st Austin Diepenhorst (Major Manson at Clachantrushal, Highland Harry, and The Smith of Chilliechassie)
2nd Andrew Hutton (The Pap of Glencoe, The Piper's Bonnet, and The Man from Glengarry)
3rd Maeghan Bielski (Leaving Glenurquhart, Glentruin, and The Cockerel in the Creel)
4th Gavin Mackay (John MacDonald's Welcome to South Uist, Islay Ball, and Johnnie MacDonald's Reel)
5th Michael McLeod (Bonnie Ann, The Shepherd's Crook, and Lieutenant D.J.S. Murray)
6/8 March
1st Austin Diepenhorst (Duncan MacGillivray, Chief Steward and Leaving Port Askaig)
2nd Andrew Hutton (Miss Ishabel T. MacDonald and The High Island)
3rd Maeghan Bielski (Lord MacPherson and Captain Lumsden)
4th Christian Rhoads (Jean Mauchline and Captain Lumsden)
5th Gavin Mackay (Bruce Gandy's Farewell to the Iron Horse and The Judging was Bad)
PERFORMERS FOR THE 2016 COMPETITION
The 10 top Grade One Pipers from across Canada and the United States have been invited to this event. They are selected on the basis of the results from the 2016 competitive season.
MAEGHAN BIELSKI - Middleboro, Massachusetts
AUSTIN DIEPENHORST - San Diego, California
ANDREW HUTTON – Brantford, Ontario
TORI KILLORAN - Pitt Meadows, British Columbia
ROGER HOLLAND-LYE – Coquitlam, British Columbia
GAVIN MACKAY - Kitchener, Ontario
MICHAEL MCLEOD - Greenwood, South Carolina
CHRISTIAN RHOADS - St. Louis, Missouri
ALEXANDER SETO – Aurora, Ontario
SARAH SIMPSON - Cavendish, Prince Edward Island

Order Of Play, Next Page