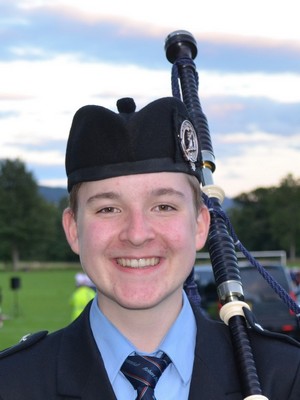 Alistair Bevan turned 15 years old in September. He is enrolled in the honours programme at Yale Secondary School in Abbotsford, BC. He began piping at the age of 7 under the tutelage of his parents, Bonnie and Alan Bevan.
Alistair has been a member of the Robert Malcolm Memorial Pipe Band for six years, competing at the World Pipe Band Championships with the band in 2014 and 2017. A particular highlight for him this season was playing at the Worlds with his younger brother, Callum.
Alistair won the BC Pipers' Association Grand Aggregate in Grades 5, 4, and 3. He won the Grade 1 Grand Aggregate in 2017, his first year in the class. He has attended Piping Hot Summer Drummer (PHSD) every year since he started piping. He has won the PHSD tune writing competition four times and placed second twice. Alistair got a taste of competing in Scotland this past summer, winning the junior events at the Glenisla Highland Games, and he looks forward to playing in more solo contests overseas next year.
In September 2017, Alistair was invited to join the Simon Fraser University Pipe Band. He is looking forward to playing in the band with his mom and dad.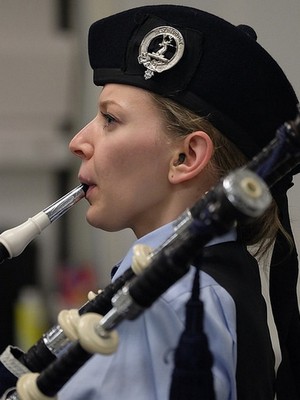 Tori Killoran is a fourth year Criminology student at Simon Fraser University in Burnaby, British Columbia, currently residing in Pitt Meadows, B.C. She started piping at the age of 9 under the instruction of Scot Koregaard and later Edmund Chilton. Currently, Tori receives instruction from Alan Bevan and Jack Lee.
The Kamloops Pipe Band Society was the first band Tori played with, and in 2011 joined the Robert Malcolm Memorial grade four Pipe Band. Tori travelled to the Glasgow Green in 2012 and competed with the grade four band, coming third in the Novice Juvenile grade. The following year, Tori was promoted to the RMM grade two band where she played for two years. In 2015 she was promoted to the Simon Fraser University Pipe Band. One highlight of Tori's piping career has been playing at the Glasgow Concert Hall for the Pre-World's Concert in 2015.
Tori is also a competitive highland dancer who has represented British Columbia at the Canadian Highland Dancing Championships three times. Most recently she competed at the Canadian Championships in Charlottetown, P.E.I., finishing seventh overall in her age group. One of the highlights of Tori's dancing career was being a part of the 2014 Royal Edinburgh Military Tattoo Highland Dance Team.
Tori enjoys shring her passion of the Scottish Arts with her piping and dancing students.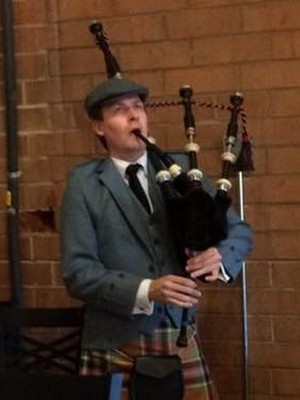 Alasdair Martin began playing the bagpipes in 2003 under the tutelage of Mark Tomasetti in Vancouver, Washington. Playing for several years in the Sir James McDonald Pipe Band, he moved to Phoenix, Arizona in 2007 where he played with the Mesa Caledonian Pipe Band for nearly ten years. After college, graduate school, and a modestly successful stint in Grade 2, he began to take his piping more seriously, spending a year with the Los Angeles Scots and taking some lessons with Bruce Gandy upon his promotion to Grade 1. At the end of 2016, he moved to Charlotte, North Carolina, where he currently competes with the Loch Norman Pipe Band.
There are many to thank: Mark Tomasetti for his initial instruction, Robbie and Jeff Brewer, Chuck Burgin and Jeff Anderson as his instructors in Arizona, Chris Hossack for years of mentorship, Gabriel Nierman and the folks at MacLellan Bagpipes for achieving grade appropriate tone, Jay Close, Bruce Gandy, the folks in the LA Scots, his family, and many others.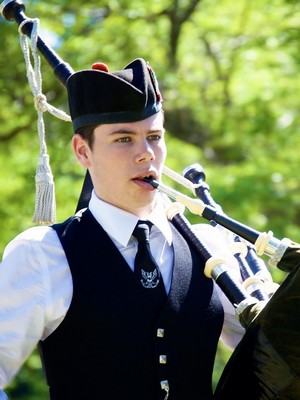 Mark McClennan began piping at the age of 12 with the 121 Red Arrows Air Cadet Pipes and Drums and is receiving instruction from Tyler Bridge and Bob Worrall. This year was Mark's first year competing at the Grade 1 level and feels greatly honored to be invited to the George Sheriff Memorial Competition. Mark is currently a member of the Guelph Pipe Band.
Mark started competing in 2013 at the Pipers' and Pipe Band Society of Ontario contests. This year, Mark placed 3rd overall in Grade 1 Light Music and 2nd overall in Senior Amateur Piobaireachd in the PPBSO. Mark also competes at the Toronto Knockout competition every year and has received the John Wilson Memorial Piping Award, as well as the Pipe Major Archie Dewar Memorial Piping Award. In the fall of 2016, Mark placed 1st in Piobaireachd at the Balmoral Classic US Junior (Under-21) Solo Piping Championship in Pittsburgh. This year, Mark was Amateur Piper of the Day at the Toronto Indoors and the Almonte Highland Games.
Mark is a second year Physics student at the University of Waterloo. This past summer, Mark attended the Balmoral School of Piping and Drumming where he received instruction from distinguished instructors including Robert Mathieson. He also has a couple of young students whom he looks forward to teaching each week. Mark wants to thank everyone who supports and encourages him in his Piping aspirations.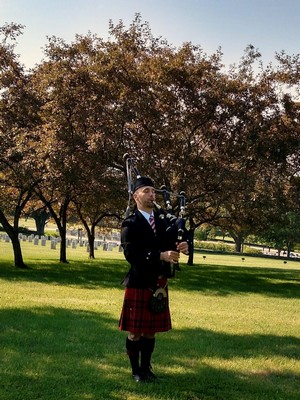 Ben Montross began piping over 20 years ago with a parade band in his home town of Red Hook, New York. He now lives in Waterbury, Vermont with his wife Kate. Over the last 20 years, Ben hasstudied with several teachers and played with several bands throughout the northeastern United States. He currently studies with Lezlie Webster. In October, Ben studied at the National Piping Centre in Glasgow for two weeks as the prize for the USPF overall amateur championship.
When not bagpiping, Ben enjoys hiking and mountaineering. In 2016 Ben and Kate finished hiking all of New Hampshire's 48 mountains above 4,000 feet in elevation. Ben aspires to complete "The Grid" in New Hampshire by hiking each 4,000+ foot peak in each month of the year.
In 2017 Ben won the piobaireachd event and the overall amateur United States Piping Foundation competition, the Ramsay Trophy for best amateur piper at the Grandfather Mountain Highland Games, and piper of the day at the Capital District Scottish Games. As of September, Ben is the overall points leader in Grade 1 of the EUSPBA.
Ben is a graduate of Siena College, with a BA in Environmental Studies and Vermont Law School with a Master of Studies in Environmental Law. He works for the State of Vermont and is the Compliance Manager for the State Drinking Water Program
Ben appreciates the continued support of his family and aspires to eventually be upgraded to professional grade and to become a judge.
Gavin Mackay is a 16-year-old high school student at Cameron Heights Collegiate in Kitchener, Ontario. He started piping at the age of 10 under the expert guidance of Gail Brown, the late Ed Neigh and now Bob Worrall. Gavin comes from a family of pipers, as his two aunts, Angela and Lynda, along with his father, are all pipers, two of which have previously competed at the 'Sherriff'.
This season Gavin won Champion Supreme in Ontario for both Piobaireachd and Light Music. He was also Amateur Piper of the Day at all six Highland Games he competed at, including Maxville where he won all four contests. Gavin has previously won the overall Under-15 championship at the Northern Meeting in Inverness, the Balmoral Classic US Junior (Under-21) Solo Piping Championship in Pittsburgh, and the 2015/16 Toronto "A" division knockout for Grade 1 and Grade 2 players. He is currently a member of the Grade 1 Toronto Police Pipe Band which is full of great players and great people where he was fortunate to compete at the World's this summer for the first time.
Gavin wants to thank his grandparents, Susan and Mike Mackay at Ben Bhraggie House for everything they contribute to his piping and all of his immediate and extended family for their constant support, encouragement, and for always providing the biggest cheering section. And finally thanks to the PPBSO for their continued support.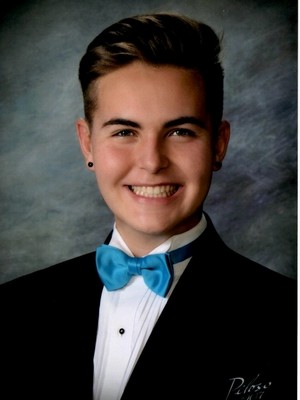 Charlie Morris is a California native, residing in Agoura Hills. He recently graduated from high school and will be pursuing a degree in education.
After several years as a highland dancer, Charlie decided to pursue the bagpipes, with this being his 4th year competing. He joined the Robert Malcolm Memorial (RMM) Grade 3 Pipe Band in 2015, and this year competed with the band at the World Pipe Band Championships. This fall, Charlie joined the Grade 1 L. A. Scots Pipe Band. Seumas Coyne is his solo teacher and mentor.
Charlie's solo piping accomplishments include, but are not limited to: National Piping Centre Open Junior Championship - Piobaireachd 2nd (2017), North American Amateur Piobaireachd Championship Silver Medal - Grade 2 (2017), North American Amateur Ceol Beag MSR Championship Bronze Medal - Grade 2 (2017), Balmoral Classic Championship - Overall 3rd (2016), Balmoral Classic - Piobaireachd 3rd (2016), Balmoral Classic - MSR 2nd (2016), Western United States Pipe Band Association Grade 2 Aggregate (2016), British Columbia Piping Association Grade 2 Grand Aggregate (2016).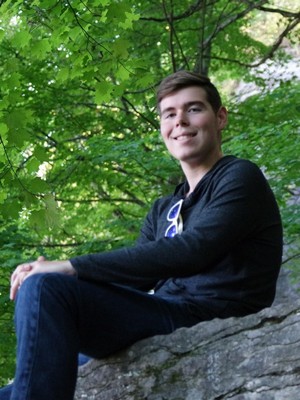 Christian Rhoads is an 18 year old home school graduate who has been enamored with bagpipes since he was very young. In 2010 he began his piping instruction under the tutelage of John Haack with the St. Louis Caledonian Pipe Band. After playing with the band for two years, he ventured into solo competitions and met with great success. He took multiple 1st place awards in MWPBA competitions in 2013 and 2014, placing 2nd overall in Champion Supreme points. In 2015 and 2016 he achieved his goal of obtaining Champion Supreme in Grade 1 Light Music and Piobaireachd. He was awarded Piper of the Day at the 2016 Indianapolis Highland Games and the 2016 Alma Highland Games. He placed 2nd at the Midwest Pipe Band Championship and 1st overall at the Mid America Pipe Band Championship in 2017.
In 2013, Christian began taking lessons with Matt Pantaleoni, one of the top U.S. professional pipers, and has been rewarded by Matt's skill and experience. He also receives instruction from renowned piper and reed maker, Chris Apps. Christian has also worked with Willie McCallum and Brian Donaldson at the Balmoral School of Piping and Drumming.
He is investigating universitites that offer scholarship opportunities that can help further his education and piping career.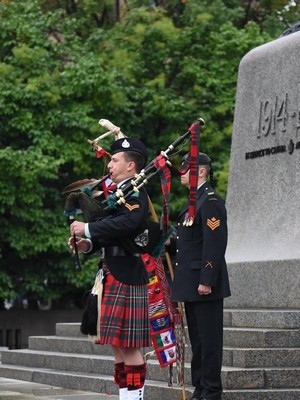 Caleb Thibodeau, originally from Windsor Ontario, has been piping for nearly 8 years. Beginning his competitive career in 2012, Caleb began playing with the Grade 3 Windsor Police Pipe Band, and since the 2014/15 season, has been a member of the 78th Fraser Highlanders Pipe Band. Caleb has received both his piobreachd and light music instruction from Syd Girling, and continues under his tutelage.
Elevating into the regular prize lists on the Ontario solo circuit, Caleb also notably placed second in the Ceol Mor and won the Grade 1 Ceol Beag at Kansas City Winter Storm in 2017. Caleb is a corporal and piper in the Canadian Army with the Essex and Kent Scottish Regiment, playing for such notable figures such as His Excellency Governor General David Johnston, Prime Minister Justin Trudeau and His Royal Highness Prince Michael of Kent.
Caleb has an undergraduate in mathematics, and is currently pursuing a Masters of Financial Economics at the University of Western Ontario, as well as the Chartered Financial Analyst designation.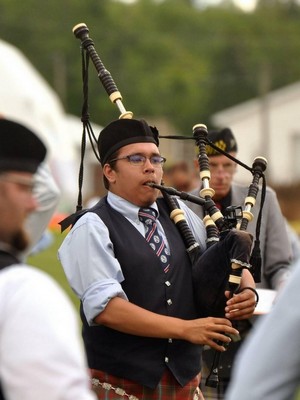 Laureano Thomas-Sanchez is a sophomore at Alma College in Michigan where he is studying Music Education with concentration on bagpipes. He began bagpiping in 2010, at the age of 11. His first instructor was Wayne Holscott before moving on to Michael Crawley. In September 2011, Laureano began lessons with Barry Conway and joined the Great Lakes Pipe Band (Grade 2) who he currently plays with, along with the Alma College Pipe Band.
Over the past 8 years, Laureano has competed in solo events under the EUSPBA, MWPBA, WUSPBA, and PPBSO, placing in at least top 3 in several events in each association every year, including the North American Championships. Laureano has been Piper of the Day multiple times at the Ohio Scottish Games, Ligonier Highland Games, Loon Mountain Highland Games, and Pleasanton Scottish Games. In 2015 he competed at the Nicol-Brown invitational and placed 3rd in the Piobaireachd event and 4th in the 6/8. This year, Laureano competed at Winter Storm where he placed 3rd in Light Music. He also competed at The Metro Cup, placing 2nd in MSR and Piobaireachd.
Laureano has attended the Ohio Scottish Arts School from 2011-2016 where he received instruction under Bob Worrall, Reay MacKay, and Craig Munro. Laureano joined the teaching staff at the Ohio Scottish Arts School in 2017.