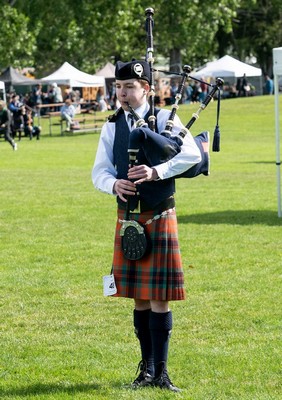 Alister Bevan turned 17 years old in September. He is enrolled in the AP program at Yale Secondary School in Abbotsford, British Columbia. He began piping at the age of 7 under the tutelage of his parents, Bonnie and Alan Bevan. Alistair was a member of the Robert Malcolm Memorial Pipe Band for six years, competing at the World Pipe Band Championships with the band in 2014 and 2017. In September 2017, he was invited to join the Simon Fraser University Pipe Band. Playing with the band at the World's in four circles this year was a big career highlight.
Alistair won the B.C. Pipers' Association Grand Aggregate in Grades 5, 4, and 3. He won the Grade 1 Grand Aggregate in 2017 (his first year in the class) and again in 2018 and 2019. In 2017 Alistair was the overall winner of both the Nicol-Brown and the George Sherriff Invitationals. He has also won the tune writing competition at Piping Hot Summer Drummer five times and placed second twice. In his free time Alistair enjoys doing computer modelling and animation. He plans to pursue a degree in engineering after high school. Alistair is excited to have been invited back to compete at the George Sherriff again this year.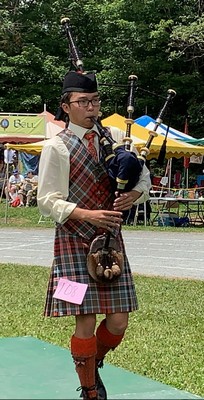 Kevin Darmadi is a 17 year old high school senior at St. Thomas Episcopal School in Houston, Texas. This is his ninth year piping under instructors Lyric Todkill, Nick Hudson, Mike Cusack, and Ian K. MacDonald. He is currently Pipe Major of the St. Thomas Episcopal School Pipe Band, recently placing fourth in the juvenile grade at the 2019 World Pipe Band Championships. He also plays with the Grade 2 St. Thomas Alumni Pipe Band. In addition to his piping, Kevin is also an avid skier and loves travelling.
This season was a successful one for Kevin. He was won Grade 1 Piper of the Day prizes at the Grandfather Mountain Highland Games and the Fair Hill Highland Games. He also won the overall amateur prize at the 2019 United States Piping Foundation Championships in Newark, Delaware with a first in the piobaireachd event. He also got the chance to compete at the Argyllshire Gathering this summer in the Intermediate MSR and the MacGregor Memorial. This is his second year getting invited to both the Nicol-Brown and George Sherriff competitions.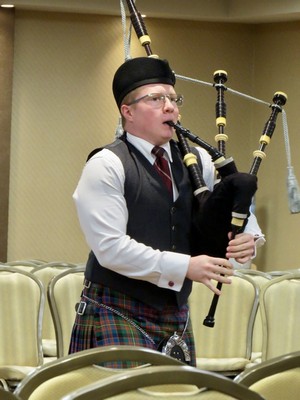 Tyler Destremps is currently a senior and first year masters student at Carnegie Mellon University in Pittsburgh, Pennsylvania, getting his undergraduate in Bagpipe Performance and Neurobiology and his Masters in Health Care Policy and Management. He began piping in 2012 at the age of 13 at Liberty High School in Bethlehem, Pennsylvania. His first instructor was Scot Walker, whom he took lessons from until he moved to Pittsburgh to begin his studies in 2016. Tyler currently receives instruction from Andrew Carlisle as well as Alastair Murray, playing with the CMU Pipes and Drums and Ulster Scottish Pipe Band from Philadelphia.
Tyler had a very successful season this year, currently ranked 1st overall in the EUSPBA in both Light Music and Piobaireachd. He won Grade 1 Piper of the Day awards at the Capital District Highland Games, Glasgowlands Scottish Festiva, and Hundson Valley Celtic Festival. He was 2nd overall at the 2019 Metro Cup in Newark, New Jersey, and also placed 1st in the MSR event at the 2019 United States Piping Foundation in Newark, Delaware. He is extremely honoured to be invited for the first time to both the Nicol-Brown and the George Sherriff amateur piping competitions.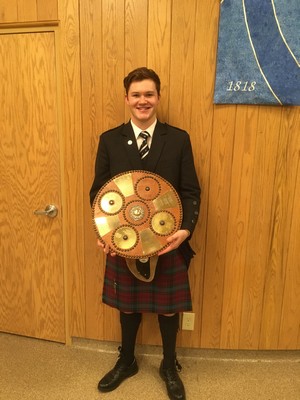 Joseph Horwath (Joey) is 19 years old and a freshman at Delta College. He is studying business. He began bagpiping in 2006 at the age of 6, but he did ot start competing until 2013. His first teacher was Bob Pennington and shortly after that he moved on to take lesson from Dennis Lowe. He currently takes instruction from various teachers. Along with helping out the Alma College Pipe Band, he also plays with the Grade 2 Great Lakes Pipe Band from Cleveland, Ohio.
Over the past 5 years, Joey has competed in MWPBA, EUSPBA, PPBSO, AND WUSPBA sanctioned games. He has placed top 3 in several events in each association. He was invited to both the Nicol-Brown and George Sherriff competitions last year where he received 2nd in the MSR at the George Sherriff and 4th overall. This summer, Joey competed at the Pipe Idol event during Piping Live in Glasgow, Scotland. Last month he won the MSR event at the Nicol-Brown Invitational in New York.
Joey has attended the Ohio Scottish Arts School since 2015 where he has received instruction from Stephen MacNeil, Barry Conway, Andrew Duncan and Craig Munro.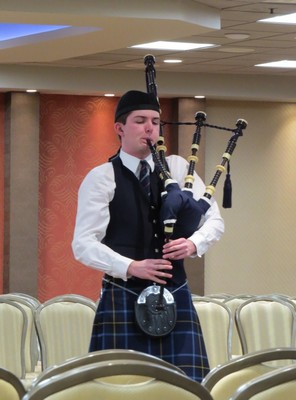 Colin Johnstone is 18 years old and has been taught by his gradfather, Reay Mackay and his mom, Glenna Mackay-Johnstone. Colin has been playing the bagpipes since he was 12 years old. This year he had a successful season being the overall winner of the Grade 1 circuit in Ontario, placing 1st in Light Music and 2nd in Piobaireachd. Colin has also been teaching bagpipes for the past 4 years.
Bagpipes aren't Colin's only musical instrument. He has been playing piano for the past 12 years and is in the 9th grade of the Royal Conservatory Music program. He is currently attending York University pursuing his undergraduate degree in Computer Science.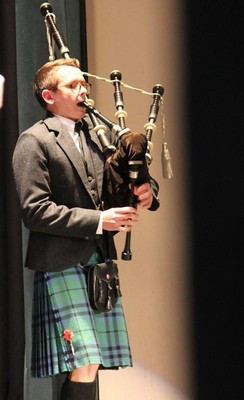 Stuart Marshall is a graduate student at the University of North Carolina at Greensboro, and is the recipient of the Hayes Excellence Fellowship in the first year of earning his Ph.D. In U.S. History. He completed his M.A. In History this May, and in 2016 received his B.A. From St. Andrews University in Laurinburg, North Carolina.
Stuart has competed with the North Carolina State University Pipes and Drums and the St. Andrews University Pipe Band. His list of teachers have included John Sprague and Bill Caudill, as well as various instructors at the North American Academy of Piping and Drumming.
In 2019, Stuart was Piper of the Day at the Cary Indoor (NC), the Virginia Scottish Games, and the Middle Tennessee Highland Games, winning the Clan MacLeod's MacCrimmon Quaich there. Ranked 2nd in Grade 1 of the EUSPBA, he also competed at the Metro Cup (NJ) and took 2nd overall at the Sandy Jones Invitational (SC).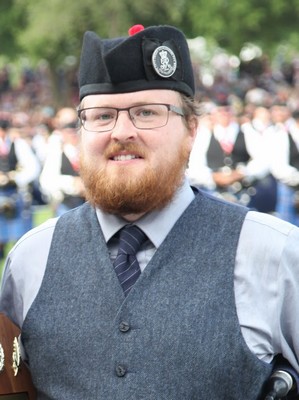 Liam Melville started piping at the age of 12 with the 653 Air Cadet Squadron in his hometown of Renfrew, Ontario, and he joined the Arnprior McNab Pipes and Drums soon after. At age 14 he began solo lessons with Ross Brown of Kingston, Ontario, who took him to grade 1 before a 5-year hiatus from competitive solo playing starting in 2011. He currently studies with Andrea Boyd and teaches a number of piping students from his home near Carleton Place, Ontario.
Liam won the Piobarieachd event at last year's George Sherriff Memorial competition where he placed 5th overall. He was amateur piper of the day at the Glengarry highland Games in Maxville Ontario this past August. He was also the recipient of the Ed Neigh Memorial Trophy in 2017 as overall winner of the Toronto Knockout Competition.
Liam took the role of Pipe Major of the Arnprior McNab Pipes and Drums for multiple competition seasons. The highlight of which was leading them to win the Grade 4 Champion Supreme title in 2016, a first for the band. He currently plays with the 78th Fraser Highlanders (Ontario).
Liam is also an accomplished Kit Drummer. He studied Jazz performance at Carleton University and toured nationally with an award-winning Canadian Blues band. He travelled the country from coast-to-coast, performing live, and making studio albums while still competing in the Ontario pipe band circuit.
Liam would like to thank his parents, his partner Andrea (also a piper), his instructors, and all his friends in the Ontario piping and drumming community for their continued support.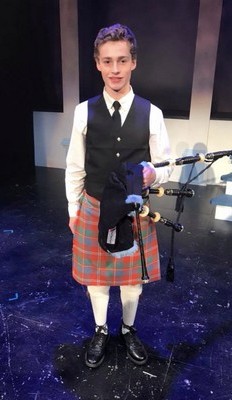 Liam MacDonald is 18 years old, and began learning pipes at the age of 6. He is currently taught by his father Calum MacDonald and previously received lessons from his Grandpa, Roddy MacDonald of Dunoon. Liam played in the Grand Celtic Pipe Band for 6 years, and just finished his second year with the 78th Fraser Highlanders. He has competed in Canada, the USA, and Scotland.
Laim started competing in solo piping in 2009, and has won various Champion Supreme titles throughout the grades. This year, Liam won the Champion Supreme for Senior Amateur Piobaireachd and placed 2nd in the overall Grade 1 standings in Ontario. He was fortunate enough to compete in the Pipe Idol Competition in Scotland this past summer and is looking forward to competing in this year's George Sherriff Invitational.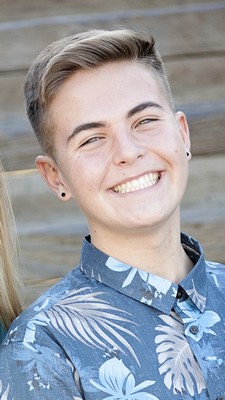 Charles Morris lives in Agoura Hills, California and is currently pursuing a degree in education. At a young age, he learned the importance of having teachers who are passionate about their craft and connected to their students, inspiring each to achieve their best. He has been blessed to have not only a mentor, but also a friend in his bagpipe teacher, Seumas Coyne. He hopes one day to teach both elementary school and bagpipes.
Charlie has played with the Grade 3 Robert Malcolm Memorial and Grade 2 Los Angeles Scots Pipe Bands, competing at the World Pipe Band Championships with each. Most recently, he won the CLASP Grade 1 World Solo Amateur Piping Championship and the Balmoral United States Junior Solo Piping Championship.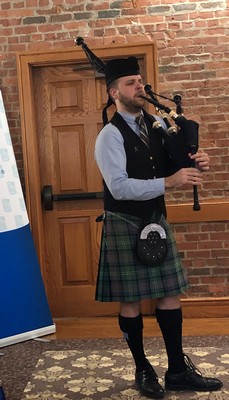 Blaise Theriault was born and raised in Halifax, Nova Scotia. He began playing bagpipes with the Dartmouth & District Pipe Band when he was 8 years old and has been part of the organization ever since. He has played in various level bands in Dartmouth and is currently the Pipe Major of their Grade 4 band. Blaise is also a member of the 78th Highlanders Halifax Citadel and receives tuition from the band's Pipe Major, Alex Gandy.
This year Blaise was awarded the Atlantic Canada Pipe Band Association's Champion Supreme for the overall Grade One aggregate and piobaireachd. Last month he was the overall champion at this year's Nicol-Brown Invitational. When he isn't piping, he works for the Province of Nova Scotia in the field of communications.